General Election 2018
Kevin McKeown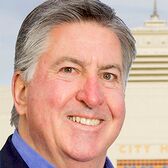 Election Date

Nov 6, 2018

Candidate Type

City Council

Occupation

Education Technology Consultant/Councilmember
Candidate Statement in English

I'm running for re-election on my proud 20-year record of responsiveness to residents like you.

You've supported and inspired me to protect our neighborhoods and quality of life, preserve Santa Monica's charm and character, limit building heights, and reduce commercial oversaturation that encourages more traffic.

Our hometown is in the crosshairs of overdevelopment. I've voted against more Development Agreements than any other Councilmember in Santa Monica history.

As a renters' rights advocate, I protect you against tenant harassment or eviction. I've supported fair wages, and truly affordable housing for working families. My commitment to excellent education is unmatched: For almost 25 years, I worked in our Santa Monica public schools.

I've championed services to youth, seniors, and the disadvantaged, including our new "Preserving Our Diversity" program providing lifeline financial aid to low-income, long-term residents.

I represent your environmental and sustainability interests beyond City borders, on the state of California's Santa Monica Bay Restoration Commission. As your Director on the Board of the non-profit Clean Power Alliance of Southern California, I'll be bringing cleaner, cheaper electric power to Santa Monicans starting in 2019.

I'm YOUR Councilmember. I don't take corporate donations; never have. I thank you for your vote.
Declaración del candidato en Español

Me postulo para mi reelección con mi orgulloso trayectoria de 20 años de receptividad a residentes como ustedes.

Ustedes me han apoyado e inspirado para proteger nuestros vecindari- os y nuestra calidad de vida, para preservar el encanto y el carácter de U Santa Mónica, para limitar las alturas de los edificios y para reducir la sobresaturación comercial que fomenta mas trafico.

Nuestra ciudad natal está en la mira del sobredesarrollo. He votado en contra de los Acuerdos de desarrollo más que cualquier otro concejal I en la historia de Santa Mónica.

Como defensor de los derechos de los arrendatarios, lo protejo a usted ante el acoso o el desalojo de los arrendadores. He apoyado los sala- rios justos y las viviendas verdaderamente asequibles para las familias trabajadoras. Mi compromiso con la educación de excelencia no tiene comparación: Durante casi 25 años, trabajé en nuestras escuelas públicas de Santa Mónica.

He luchado por los servicios para la juventud, personas mayores y los desfavorecidos, incluido nuestro nuevo programa "Preservación de nuestra diversidad" que ofrece ayuda financiera esencial para los resi- dentes de larga data con bajos ingresos.

Represento sus intereses medioambientales y de sustentabilidad más allá de los límites de la ciudad, en la Comisión de Restauración de la Bahía de Santa Mónica del estado de California. Como su director en la Junta de la Alianza por las Energías Limpias del Sur de California, una entidad sin fines de lucro, traeré energía eléctrica más limpia y más barata a los ciudadanos de Santa Mónica a partir de 2019.

Soy SU concejal. No acepto donaciones de empresas y nunca lo he hecho. Gracias por su voto.