General Election 2020
John Patrick Jewell III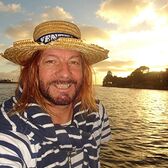 Election Date

Nov 3, 2020

Candidate Type

City Council 4-year

Occupation

Actor/Businessman
Candidate Statement in English

I served 15 years in the Baltic States. I sang with a U.S. Embassy mixed choir led by the FBI agent in charge of law enforcement overseas and American Embassy security. I was recruited into this choir while working under contract at the National Romanian Opera. In Santa Monica I ran a business in the Marina Del Rey Harbor "Gondolas D'amore" as a singing Gondolier/Actor/Businessman. I am very familiar with Marine or Admiralty Law. My hobbies include surfing; yachting; Partying; and last by not least CHURCH.
Declaración del candidato en Español

Serví 15 años en los Estados Bálticos. Canté con un coro mixto de la Embajada de EE.UU. dirigido por el agente del FBI a cargo de las fuerzas del orden público en el extranjero y la seguridad de la Embajada Estadounidense. Fui reclutado en este coro mientras trabajaba bajo contrato en la Ópera Rumana Nacional. En Santa Monica dirigía un negocio "Gondolas D'amore" en el Puerto de Marina Del Rey como Gondolero cantante/Actor/Hombre de Negocios. Estoy muy familiarizado con la Ley de la Marina o del Almirantazgo. Mis pasatiempos incluyen el surf; pasear en yate; participar en fiestas; y por último no menos importante, la IGLESIA.